Numerical Tests – Everything you need to know!

Who offers Numerical Tests?
There are various test providers who offer numerical tests either as a separate test or in combination with a verbal and logical test. Among the best known are:
SHL
SHL offers a numerical test, where you are given various graphs, tables or data sets. You have to answer multiple choice questions based on the data. Calculators are allowed. At Test The Talent you can try a numerical test for free. This will tell you how much more preparation you need to do to get your best SHL test score.
PICA – (PI-LI/PI)
Cubiks
The provider Cubiks offers both Cubiks combined and Cubiks only numerical test versions, which are available in two different difficulty levels. Nevertheless, the biggest challenge is the time factor. Calculators are allowed.
Saville
Saville tests are also combined tests. There are two versions. The numerical part is present in both versions. Here, too, you get various graphs and tables and have to answer multiple choice questions.
General Practice Tests
Test The Talent also offers the possibility for you to prepare for

general tests

that are numerical or include numerical sub-tasks. The preparation is suitable for tests such as:
What is a numerical test?
Numerical tasks are part of various ability tests because, apart from your understanding of numbers, they measure your analytical skills.
Depending on how well you perform, this shows how quickly you can learn new content.
In addition, your numerical test score indicates how you can cope with difficult tasks under pressure, especially if you have to do arithmetic. For tasks based on graphs and tables, your ability to analyse graphs and use information to arrive at the correct result is also indicated.
All these skills indicate how you will perform in the position you are applying for.
What are typical questions of a numerical test?
Lowest number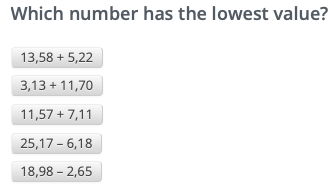 Number Sequences
Your task is to recognise the next logical number that fits into the given number line. The numbers could be added, divided, multiplied and subtracted.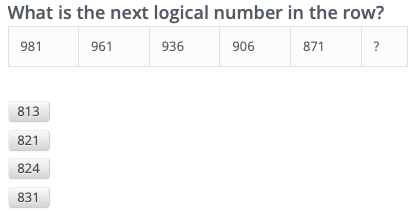 Graphs and Tables
You get a graph or a table that contains various data. Based on the data, you have to calculate the corresponding question.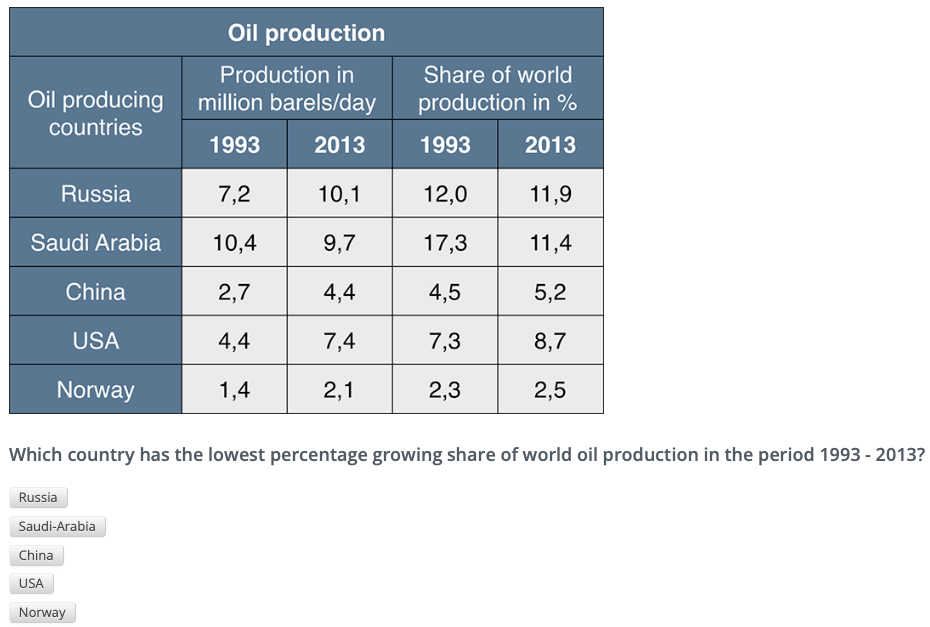 Calculations based on text
You receive an issue and have to calculate something.

Equations
In this type of question, you are asked either which arithmetic sign or which number completes an equation. Both sides of the equation must have the same value.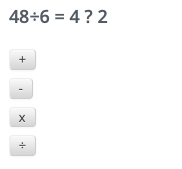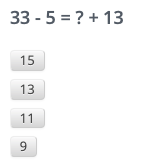 Preparations
Extensive preparation possibilities with Test The Talent.
Intensive preparation through practice tests, with the opportunity to consolidate learned content through constant repetition.
In addition, you will become more familiar with the tasks through practice, which will help you to remain calm under time pressure.
Start preparing as early as possible and find out where your strengths and weaknesses lie.
If, for example, you almost always got all the number sequence questions correct in the practice tests, but have problems with the text tasks, you should focus more on the text tasks.
In the case of task types that relate to graphics and tables, intensive preparation is even more important when it comes to achieving the best possible final result.
The graphics are structured similarly in all practice tests as well as in the real tests. The content differs, but the structure is the same.
So take advantage of the opportunity and know the tasks before the actual test.
Which companies put a special focus on good results in numerical tests?
In principle, almost all companies attach importance to their candidates having basic numerical/mathematical skills. Depending on the industry, however, it varies greatly how pronounced the skills should be.
However, you should achieve a particularly good score in the numerical part if you apply to a company that fills positions where special numerical and analytical skills are required. This includes positions in the IT, accounting and management consulting industries.
Likewise, your numerical skills should be strong if you are applying for a management position. These require advanced analytical skills, as well as a strong interest in numbers and mathematical expertise.
Candidates for management positions must be clearly convincing in many areas and should therefore achieve the best results in the ability test.
If your goal is to apply for a professional position, use Test The Talent's practice tests to make sure you get the job. It won't be easy, but with the right preparation, you'll be a huge step ahead of your competitors. Take your chance!
https://testttalent.com/wp-content/uploads/2022/06/numerical-image.jpg
1000
1500
thomas
http://testttalent.com/wp-content/uploads/2017/01/logo-testt.png
thomas
2022-06-13 06:31:27
2022-07-03 12:51:35
Numerical Tests – Everything you need to know!