Verbal Tests – Why it matters

Verbal Comprehension and Why It Matters
Verbal comprehension tasks measure a portion of your cognitive ability. In addition to numerical comprehension and logical/inductive reasoning, verbal comprehension and understanding complex text are an important part of being a successful candidate in the application process. At Test The Talent, you can prepare extensively for your employment test. If you are taking a verbal test, whether as a single test or a combination of numerical and logical/inductive tasks, intensive preparation will make the actual test easier.
Ability tests with verbal test part
At Test The Talent you can take practice tests to prepare for a wide variety of tests, some of which include a verbal section. The PICA and Saville tests are only available in a combined version. You can try out a PICA test for free at Test The Talent. The SHL or Cubiks tests are available both as a combined test and as individual tests for all three test areas. You can try a verbal SHL test for free. In addition, Test The Talent offers a general practice test that you can use to prepare for all common employment tests.
Structure of verbal tests
The test of SHL, in addition to the combined test, also has its own verbal test, which consists of text comprehension questions in multiple choice format. The same structure and type of verbal questions are also offered by Cubiks. Saville offers only combined tests. The verbal part of the combined test also includes questions about text comprehension. The verbal part of the combined test of PICA, is structured differently and includes three different verbal sub-tasks. There are analogies, logical reasoning tasks, and antonyms (explained in more detail below). The general practice tests of Test The Talent are similar, but this one also includes tasks where you have to identify which word does not match.
Text Comprehensive Questions
Based on a text you have to answer questions.

Antonyms
You are asked for the opposite of the given word.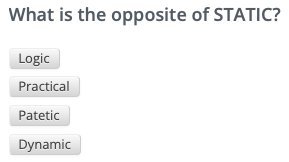 Analogies
Two words that are logically related to each other.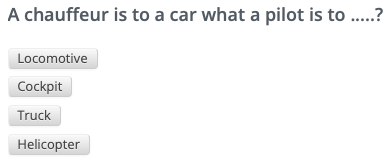 Logical inference
Based on the statement, you must agree or disagree with the conclusion.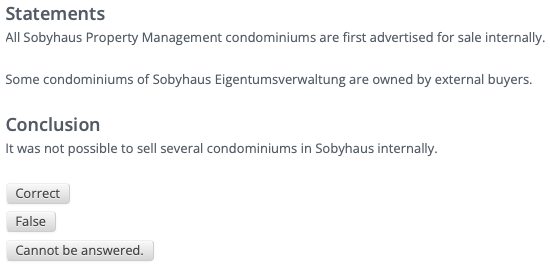 What word does not fit
One word does not logically belong to the other words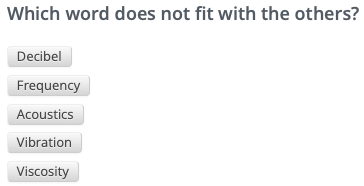 The most important tips when solving verbal tasks
Although this is true for all tasks, in the verbal part it is even more important to read through all questions as carefully and thoroughly as you can. Some verbal comprehension tasks, are easier to understand and others are more difficult. Watch out for possible comprehension traps or deliberate confusion. Basically, when it comes to verbal tasks, listen to your gut. Often the first, intuitive choice is the right one. The longer you think about the right word or meaning, the more confusing it will seem.
Very important: If you are unable to answer a question, act on the principle of elimination. Go through each answer choice and cross out the ones that you think make the least sense. Incidentally, an incorrect answer is not a detriment to your score. Therefore, you should always answer even if you don't know the answer and have to guess. Since all questions are multiple choice, you always have a certain chance of guessing correctly.
Strong word comprehension in the application process
Solving mathematical problems in no time and understanding logical relationships are important skills that need to be present in top positions. But what about verbal skills? Is it so important to be able to express yourself well and to know many words?
What is the importance of strong verbal skills in the application process?
Strong verbal comprehension skills indicate that the candidate possesses the basics of direct communication, the ability to understand complex facts, and the ability to relate information and draw conclusions. This is very relevant for professional success, since in many fields complex verbal information must be processed daily, as well as conclusions with possible consequences must be recognized. When selecting candidates for an open job position, recruiters look for these skills to ensure that the potential candidate will do a good job in the future. Thus, it is very important that you also achieve above-average results in this area. Get one step closer to your dream job and prepare for your recruitment test with Test The Talent.
https://testttalent.com/wp-content/uploads/2021/11/sincerely-media-gG86PdIzUA-unsplash-scaled.jpg
1920
2560
thomas
http://testttalent.com/wp-content/uploads/2017/01/logo-testt.png
thomas
2021-11-21 10:48:14
2022-10-04 07:37:55
Verbal Tests – Why it matters